Submitting a claim and Notification Date
Submitting a claim
Once the claimant has completed all the fields, they must click Send. If mandatory fields have not been completed the system will highlight these in red and they will need to complete these fields in order to send the claim. 
Notification date
For EL / PL claims when the claimant presses the send button a notification screen (as below) will appear.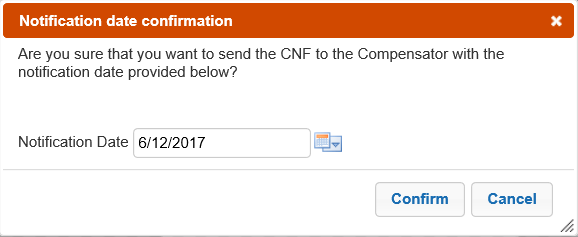 The protocol allows the claimant, under certain circumstances, to send a draft CNF to the defendant by post.  Once they have the missing information, they will be able to update the CNF and send it in the portal.  At this point, the Notification date can be overridden.  The Notification date should be entered as the date the draft CNF was posted.  Validation rules are in place to minimise the risk of inappropriate Notification dates.  The oldest possible date that is allowed is 29 working days in the past. Please refer back to section 6.10 of the Pre-Action Protocol for Low-Value Personal Injury (Employers' Liability and Public Liability) Claims. 
For RTA claims, the Notification date will automatically be set to the day the claimant sends the CNF and cannot be amended.
Back to the top.