After you are Registered
What to expect once your registration is complete:
The appointed Administrator for your organisation will receive credentials for both live and training sites, along with a welcome pack providing guidance on how to use the training site.  Further guidance can also be found on this website in the Claimant Representative and Compensator sections.
Please also take time to:
Read the Onboarding pack provided at registration
Ensure that all your Claims Handlers are suitably trained in the use of the Portal and have an understanding of the MoJ Pre-action Protocols using the Portal training site which mirrors the functionality of the live site.
Top Tips: 
It is strongly recommend that a second Administrator is created so that your firm's account can still be administered in your absence.
Please be aware that accessing the Administrator section of the Portal does not automatically give you access to the Claims Portal.  As an Administrator, it is your responsibility to create users with Claim Handler profiles, so that they can manage the claims in the Portal.  You can also use the multi-role functionality, where you can combine the Claims Handler profiles with the Administrator role.
If you are a Compensator and are setting up a TPA as a branch within your organisation, please note that if you set up an Administrator from the TPA, this Administrator will be able to create users for the whole organisation, not just the TPA branch. 
Logging in
As Administrator it is important for you to keep your Organisation Portal ID and Administrator User ID safe. Without this you cannot log in.
Do not share your Administrator User ID or Password. It is a breach of the Claims Portal User Agreement to share your log in details (credentials) with another User.
Top Tip: The expiry date on your Administrator account is automatically set to expire two years after the date of inception. It is your responsibility to manage all expiry dates for your organisation and its Users. If you let the account expire you will be locked out of the account.  
Follow the steps below ensuring that you have log-in credentials for the Administrator live and training sites: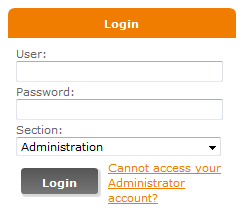 From your registration email copy and paste the Admin User ID into the User section
From the second email copy and paste the password into the Password section
Change the Section drop down box from Claims Portal to Administration and press the Login button.
If you do not select Administration from the drop down list as above, your access to the Portal will be denied.
You will be required to change your password when you login to the site for the first time.
Top Tip: Remember to add a second Administrator so that your organisation's account can still be administered in your absence.
How to create new/additional Users
To create a new/additional User, log in to the Administrator console as mentioned above, click on 'User', which is located as shown below and then 'New'. Add the User's details (Name, Email, Phone Number) in the relevant mandatory fields.
You will need to create each User ID for each User. We suggest using the User's name for this. Next click 'Submit'. Next create a password for the User. Password guidelines are below.
Top Tip: Administrators are fully responsible for managing and maintaining all User accounts. This includes password resets, expiry dates and User details.

About User IDs and Passwords
Important details you need to know:
The User ID is 

not

 case sensitive. 

Passwords are case sensitive and must be between 8 and 20 characters long.  
The password must contain at least one number and one letter.
It is not possible to use the user id, name or surname as password.
When you change the password, you cannot reuse your old one.
Disabling of User IDs and Passwords
Your User ID will become disabled if you haven't used it for 90 days.

To prevent this happening you should set a reminder to log in every month, even if you have no changes to make.

Your User ID will also disable after five incorrect attempts to log in.
When your User ID becomes disabled, you may enable your account by resetting your password online. 
Top Tip: You can reset your own password. Alternatively, another Administrator within your organisation may enable your account.
Back to the top.