After you are Registered
What happens once your Claims Portal registration is complete?
The appointed Administrator for your organisation will receive credentials for both live and training sites, along with a welcome pack providing guidance on how to use the training site. Further advice is on this website in the Claimant Representative and Compensator sections.
Please also take time to:
Top Tips: 
Create a second Administrator, so your firm's account is administered in your absence.
Please be aware that accessing the Administrator section of the Portal does not automatically give you access to the Claims Portal.  As an Administrator, it is your responsibility to create users with Claim Handler profiles, so that they can manage the claims in the Portal.  You can also use the multi-role functionality, where you can combine the Claims Handler profiles with the Administrator role.
If you are a Compensator and are setting up a TPA as a branch within your organisation, please note that if you set up an Administrator from the TPA, this Administrator will be able to create users for the whole organisation, not just the TPA branch. 
Logging in
As Administrator, you need to keep your Organisation Portal ID and Administrator User ID safe. Without this, you cannot log in.
Do not share your Administrator User ID or Password. It is a breach of the Claims Portal User Agreement to share your log in details (credentials) with another User.
Top Tip: The expiry date on your Administrator account is automatically set to expire two years after the date of inception. It is your responsibility to manage all expiry dates for your organisation and its Users. If you let the account expire you will be locked out of the account.  
Follow the steps below, ensuring that you have log-in credentials for the Administrator live and training sites: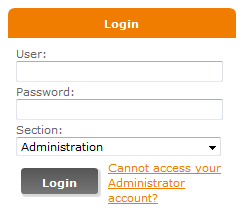 From your registration email copy and paste the Admin User ID into the User section.
From the second email copy and paste the password into the Password section.
Change the Section drop-down box from Claims Portal to Administration and press the Log-in button.
If you do not select Administration from the drop-down list as above, your access to the Portal will be denied.
You will be required to change your password when you log in to the site for the first time.
Top Tip: Remember to add a second Administrator so that your organisation's account can be administered in your absence.
Back to the top.