Logging into Live and Training
This welcome pack provides guidance on how to
log in and includes hints and tips for managing your
Claims Portal account.
Logging into Live and Training
As an Administrator, it is important for you to keep your Organisation Portal ID and Administrator User ID safe – without these, you cannot log in.
It is strongly recommended that you create a second Administrator so that your firm's account can still be administered in your absence.
Please Note: Do not share your Administrator User ID or Password, as it is a breach of the Claims Portal User Agreement to share credentials.
Your credentials will only allow you to access the Administrator's section. It is your responsibility to create users with Claim Handler profiles so that they can manage the claims in the Portal.
Please follow the steps below to access your Administrator account. The instructions below are the same for both Live and Training Accounts:
1. Enter the Admin User ID, provided in the registration email, into the User section.
2. Enter the password, provided in the second email, into the Password section.
3. Change the Section drop-down box from Claims Portal to Administration and press the Login button (see below).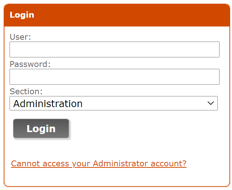 If you do not select Administration from the drop-down list as above, your access to the Portal will be denied.
You will be required to change your password when you log in to the site for the first time. Enter the old password (as provided with your onboarding pack).  Enter your new password in the boxes provided and press confirm.
About your User ID and Password
Important details you need to know:
The User ID is

 

not

 

case sensitive.
Passwords are case sensitive and must be between 8 and 20 characters long. 
The password must contain at least one number and one letter.
It is not possible to use the User ID, name or surname as a password.
When you change the password, you cannot reuse your old one.
Back to the top.