What action do I need to take?
If you receive a notification email, please login to the Portal Administration console and extend the Expiry date relating to your user ID.  The default setting is 2 years from the date the user ID was created.
The expiry date field that requires an extension is called 'Expiry Date' and is located below the 'Telephone Number' field: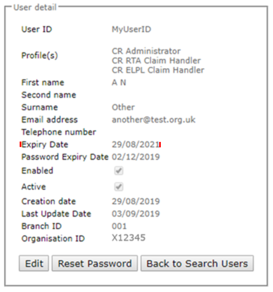 Administrators should login to the Portal Administration console to check that their email address is up to date.
Top Tip: When you are logged into the Portal, take the time to check all of your Active and Enabled User's expiry dates too. If they are due to expire and they need continued access please extend their expiry date to a suitable time in the future. For help with this visit 'Managing User Expiry Dates' located under the Administrator tab.
If you have tried to login to the Portal and you receive an error message, please visit our 'Troubleshooting Guide'.