Logging in
In order to access the Claims Portal, you will need to enter your User ID and Password provided by your Administrator. 

Ensure that the Section is set to Claims Portal for a Claims Handler or Administration for an Administrator and then click on the Login button.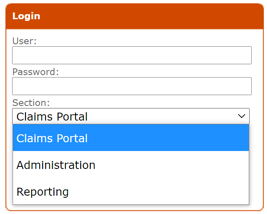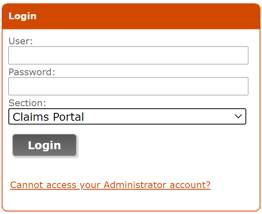 First login
The first time you log in, you will be asked to change the password that was assigned to you by your Administrator.

Enter the old password (as provided by your administrator).  Enter your new password in the boxes provided and press confirm.
About your User ID and Password
Important details you need to know:
The User ID is

 

not

 

case sensitive.
Passwords are case sensitive and must be between 8 and 20 characters long. 
The password must contain at least one number and one letter.
It is not possible to use the User ID, name or surname as a password.
When you change the password, you cannot reuse your old one.
If your User ID is disabled your Administrator can reset for you.
Disabling of User IDs and Passwords
Your User ID will become disabled if you haven't used it for 90 days or after five incorrect login attempts.  
When your User ID is disabled, it happens automatically and only your organisation's Administrator can re-enable it.  At that point, you will be asked to change your password and to enter a new one as shown above.
You will also need to change your password every 90 days.  The system will prompt you to do that.
Back to the top.